Frequently Asked Questions:

1. Was this a Commercial Venture? No, this was simply a father and son experiencing an epic adventure together. We tell our story to encourage other fathers and sons to seek ways to rebuild their relationship - with each other - and with the Lord. We worked hard to involve numerous charities on the project which share a common vision. Examples include Men's Fellowships, Family Focused Organizations, and anyone who has a heart to reach the fractured relationships between fathers and sons. Many organizations encouraged their members to sponsor the adventure by contributing a penny, nickel, dime or quarter for every fish we caught to charity. We did not profit from any aspect of this adventure.
2. How did you fish 50 states in just 50 days? We fished the lower 48 states in 44 days using four doubleheaders. For example, we fished Tennessee in the morning, drove several hours in the afternoon and fished Kentucky in the late afternoon and evening. Because our Mississippi destination was 4 hours away we were able to be at that destination rested enough and ready to fish the next morning. We used 4 doubleheader days which are listed below. Alaska was fished on day 46. Hawaii was fished on day 48. In the end we did not need to use our two backup days..
Double Header Days

Morning Outing State
Evening Outing State
Following Day State
West Virginia
Virginia
South Carolina
Tennessee
Kentucky
Mississippi
Louisiana
Texas
Oklahoma

New Jersey

Delaware
Maryland



3. How did you select each state's trophy water?

Research began in July, 2008 to find each legitimate fishing location. Arguably, each state has many candidates so this was very difficult. We poured over dozens of books and periodicals, reviewed hundreds of websites, and interviewed local experts in this process. Key factors for each state included determining the impact of water temperature, water flow, water clarity, spawning cycles, and quantity of guides in an area. One interesting method involved reviewing the date stamps on the bottom of uploaded fish pictures to various websites. The location or proximity of any particular water body was not a consideration.

Only after the 50 sites were first selected did we plot their locations on a map

and assess the travel route to reach them.


4. Did you drive to all 48 of the lower 48 states? Yes. We used a Winnebago View RV to cover the lower 48 states and they we flew to Alaska and Hawaii.



5. Did you drive to Alaska?

No. We flew from Washington D.C. to Alaska upon completion of our 46th state (Maryland).



6. Was this a World Record?

We can not find any evidence that there is a record of this type. It must be noted that it was not our intention to try to set a record. Our goal was to experience an amazing adventure together and bring attention to both father/son relationships and Father/son relationships. If this has been attempted before - we applaud the achievement and would love nothing more than to meet the other father-son team.



7. Where do start first?

This was a very challenging issue. As most people know, the best time to fish depends on the fish and the season. For bass, it is best to target the spring. For catfish, it is often best to target the summer. For trout, you need to consider the heavy spring run-off and not start too early. For salmon, the spawning patterns differ from place to place. Many fish also move to deeper water as the summer temperatures increase which make them harder to catch. With these issues and many more we believed we could maximize our success by starting in Pennsylvania and moving clockwise. This enabled us to fish the southern states as early as possible and normalize the impact of summer heat across the entire trip.



8. What direction did you drive?

We traveled clockwise, starting in Pennsylvania. See our map.



9. Did you purchase fishing licenses in every state?

Yes. Fortunately, fishing licenses for nearly every state can be purchased in advance and on-line. In a few cases, the guides maintain the licenses necessary. Quite frankly, this was one of the most tedious tasks. Hopefully someday a national fishing license program will exist..



10. What kind of vehicle did you travel in?

We used a Winnebago View which sleeps two people comfortably to travel the lower 48 states. This small and agile RV give us the maximum flexibility as we traveled off major highways. We were also able to take a shower, prepare our meals, and maintain a permanent environment to support our many daily activities.



11. Did you always sleep in the RV?

Almost always.. In order to minimize logistics, travel time, and road miles we coordinated with each local guide to identify a location each night for our RV to park. In most cases there was a campground within 5 miles of our morning launch site. On three occasions we were provided a local hotel to stay-in. This was nice beause we had unlimite hot water for once.



12. Did you make any plans in case your RV broke down?

A very good friend of ours offered that if our RV broke down that we simply leave it, grab a rental car and continue on. He would come to our rescue, get our RV repaired, and fairy it to us as quickly as possible. Now that is true friendship! Please read our account of what happened in North Dakota for an example of "what went wrong".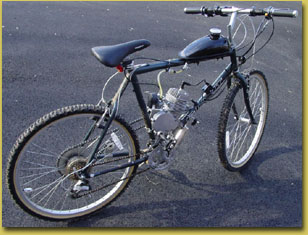 13. What happens if your RV breaks down in the middle of nowhere?

We decided that instead of carrying a bulky motorcycle that we would take on a side project and retrofit a mountain bike with an 80cc engine. This gave us the compact and lightweight storage of a bicycle with the long-range (100 mile) motorized travel of a moped on a gallon of gas. You can still pedal the bike if needed, or travel upwards of 30mph on open roads. We believed we would only use the motorized mountain bike for extreme emergencies such as breaking down in a remote region where cell phone coverage did not exist. We humorously named our little motor mountainbike "

The Plan B

".



14. Did you have a Plan-B for everything?

We made provisions for nearly everything – within reason. The planning phase for this event began in July of 2008 so that we would be able to develop a logistics plan for nearly everything along the way.



15. Does your son enjoy fishing as much as you?

He has been an avid fisherman since he was about 3 years old. But to be fair, I'm clearly more Type A when it comes to fishing.



16. Did the two of you share in the driving equally?

Yes. We split the driving 50/50. Interestly, Taylor only had his driver's license for 6 months prior to our departure. He drove 7250 miles.



17. Did you ever get sick?

Taylor got sick on Lake Erie in Ohio, but he still fished that day - he even caught some fish.



18. Why did you choose to start on June 13th?

This was simple. We began our trip immediately following Taylor's last day of the school.



19. Did you record what you caught?

Yes. We documented everything we caught and recorded a detailed accounting each day.. We also captured photographs and video each day as well..



20. What kind of computer resources did you have with you?

We used multiple rugged laptop computers, multiple backup hard drives, wireless broadband connectivity for each laptop, an in-car navigation system, multiple cellphones with different cellular carriers to minimize connectivity problems across the nation, multiple digital cameras, digital video camera, and a voice recorder..



21. Do you plan on writing a book?

Yes, we are currently working on the book that chronicles the adventure. If it indeed is published we will donate any of our proceeds to charity.

22. Are you planning on fishing for salt water fish anywhere? Yes. Our goal is to avoid being too legalistic on fish or water type and as such there are several states that have some amazing trophy salt water fish. For example, Hawaii's Blue Marlin, and Florida's Tarpon, and Maryland's Striped Bass. But, to be quite honest, both Taylor and I get sea sick easily so we limited our deep sea outtings.



23. What does your wife think about this adventure?

She was very supportive. She worried mostly about the difficulties of the trip, the long hours of driving, and the 7 weeks away from home. But, she clearly believed in the trip's mission and cause.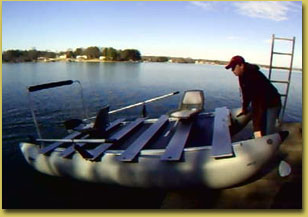 24. Did you take a boat?

Yes. We took a collapsable/inflatable driftboat with us (FoldCat 440 FC by SeaEagle) This is a very durable craft that collapses into a very small form factor. We've rafted literally hundreds of miles on extreme Colorado rivers in the raft and caught hundreds of fish in the process. We were able to either go motor-less or use a trolling motor for still water. We used the boat in Pennsylvania, Colorado, and Rhode Island.



25. What's the Story with the fish picture in your logo?

There is some amazing irony in this picture. I would encourage you to read the entire story - which I call my "Fish of a Lifetime".






"I've gone fishing thousands of times in my life,
and I have never once felt unlucky or poorly paid for those hours on the water."

~ William Tapply



Last Updated October 10, 2009 - Copyright 2009