---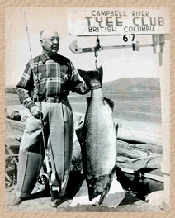 C
ampbell River, British Columbia was the destination. Why Campbell River? The ultimate destination wasn't really the river at all. Rather, a small coastal fishing village overlooking the Discovery Passage on Vancouver Island's eastern shore. The site is a remote location, nearly 6 hours travel from Vancouver - three by ferry to the port of Nanaimo on Vancouver Island and another three by car due north to the village known as Campbell River. The ocean waters surrounding Campbell River are without question one of the most revered fishing destinations in all the world. This historic fishing site discovered by native Indians hundreds of years ago boldly claims the title of "Salmon Capital of the World." The title, eulogized by famed western novelist Zane Gray in the 1920s, stems from his chronicles on the famous "Campbell River Tyee Fishing Club." Fisherman throughout the world hold the Tyee Club as one of the most revered and sought after memberships imaginable. A Tyee member, by witness, must land a Chinook "Tyee" Salmon, called "King" salmon to those in the States, in excess of 30 pounds from a drifting rowboat, using an artificial lure, in the waters along Tyee Spit. The Tyee Spit is a small peninsula of land approximately one mile in length just south of the mouth of Campbell River. To this day the waters along the Tyee Spit are off limits to everyone except fisherman seeking membership into this elusive club.
Our hopes weren't nearly as grand. Drift or troll, artificial or live bait, Chinook, Coho, or Chum, we just wanted to catch salmon. Anyway, although not mythical, most people felt gaining membership to the Tyee Club was mostly a thing of the past maintained by great fishing lore. After all, the club was formed in 1917 when fish were plentiful. A sharp contrast to today. In the first 50 years hope for gaining membership was a reasonable goal for most ardent fisherman. However, since 1970 annual new members have been dropping steadily mostly pointing toward the growth and success of Alaska commercial fishing taking its toll. Mostly old-timers with lots of patience give it a shot. The vast majority of fishermen tend to avoid the strict Tyee challenge entirely and troll for their catch off the lighthouse nearly 6 miles to the south leaving only the purists to the waters along Tyee Spit. Nevertheless, we were off. Who knew what lay in store for us.
Day 1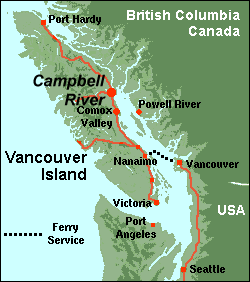 We left Seattle early on August 5, 1998 driving north by caravan. The party consisted of my father (Jim) and I in our Honda Accord pulling the "Turner Tornado" while my children (Lauren age 9 and Taylor age 6), wife (Beth), sister (Erika), and mother (Joan) followed behind in our second car. The boat was a small 14' Livingston tunnel hull popular to the Northwest's coast guard that I purchased earlier that year. Taylor proudly named the vessel the day we brought her home. I think it was partly in homage to our Kansas heritage.
The First Sign of Trouble
My father and I, two eager fishermen, were without question in a hurry to reach Vancouver and keeping to a very tight schedule. Missing the 11:00 A.M. Vancouver ferry meant delaying our Campbell River arrival by at least two hours. We pushed the Honda as fast as it would go with boat in tow.
Ninety minutes into our journey Beth, pulled up beside us on I-5 and yelled "smoke is coming from underneath your car!" We quickly pulled to the shoulder, jumped out and popped the hood. Sure enough, smoke was rolling off the engine and Beth yelled, "the car's on fire!" My father, never one to get excited, lit up a cigarette as he peered in and argued the claim. Beth quickly proved her point as flames leaped from underneath the carburetor leaving us in a frenzied attempt to extinguish the blaze before it was too late. My first panicked thought was to unhook the boat so we could at least guarantee salvage of the fishing trip. My father yelled to retrieve the fire extinguisher from the boat only to find out I hadn't purchased one. Thinking the fire was no more than the equivalent of a match, I began blowing and fanning the flames which only worsened the situation. We found ourselves unable to suffocate the blaze because it was too well protected by hoses and cables. Our last resort and thought was a stray water bottle that lay under the back seat. Luckily this did the trick. After inspection my father and I concluded that nothing had been damaged. The fire had been caused from oil splashing onto the exhaust manifold.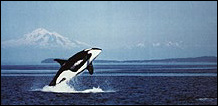 In the frenzied preparation for the trip I had forgotten to put the oil cap back on. I received the obligatory rolling of the eyes from Beth prompting my Homer Simpson, "DOH!" Beth claims when I get fishing on the brain all bets are off regarding details. I had no defense, she's right.
We arrived at the Vancouver ferry dock in good time. The fire was only a minor delay and in the end no real harm to our trip, or so we thought.
Two hours later we were docking in Nanaimo on Vancouver Island's eastern shore thirty miles due north of Victoria. We cont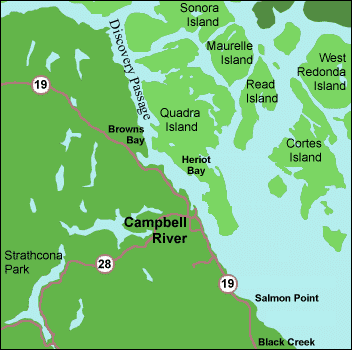 inued by car for another three hours navigating the perimeter highway of Vancouver Island. We arrived in Campbell River at 4:00 P.M. and quickly made our way to the resort called Elk Falls. The resort offered small one bedroom cabins on the banks of Campbell River. One mile downstream the river flowed into the waters of the Discovery Passage, home to the awesome migrating Orca whales. Not one to lose any fishing time, my father and I quickly unpacked and readied our gear for our first fishing experience of the trip. We quickly made our way to the boat ramp just south of Tyee Spit. Launching the boat proved tricky as we fought 30 mile per hour north winds. Wind or no wind we were putting this boat in the water. After getting much too wet and executing an extremely awkward launch we were afloat and off.
The first evening proved a challenge. Winds pushed waves to three feet, and hearing before hand of the awesome currents and whirlpools that can pull floating trees under in this area, we decided to stay close to shore and jig in shallow water. Our high expectations for this night netted a dozen bottom fish consisting of Kelp Greenling, Yellow-eyed Rockfish, and a few Ling Cod. No salmon though. We headed for the marina after only an hour and arrived back at the cabins for a late supper. We declared tomorrow would be our day.


Day 2
We awoke at 5:30 A.M. and quickly scurried to ready ourselves for the big day. It was a perfect morning, not a breath of wind and 55 brisk degrees. By 6:00 A.M. we were back at the dock. We quickly loaded our gear, started the motor, and slipped out of the marina. The water was calm and smooth in sharp contrast to the previous evening. Several boats were heading for the lighthouse off the sound end of Quadra Island a mile or so southeast of us. The locals said this would be the hot spot. U

pon arriving we quickly rigged our lines and dropped "Crippled Herring" lures to a depth of 150 feet where our fish finder marked a large population of fish. The lures were simple herring-shaped jigs made of lead approximately 5 inches long designed to flutter like a wounded fish when slowly dropped to the bottom. The lure is common in the Northwest and is good for just about anything including salmon. After an hour we had two Dogfish sharks to show for our efforts. Around us the boat population grew and grew. By 9:00 A.M. there were over 50 boats within a half mile in every direction. Everyone was trolling. We decided to go with the flow and set out our down rigger and trolling lines. Three hours later we were still without a salmon. Discouraged and surprised that we hadn't seen others landing salmon either, we headed for shore.

After an afternoon break and strategizing about our techniques we headed out for another evening attempt but came back empty again. Not wanting to lose any more time learning the hard way we decided to hire a guide. The cost was $350.00 Canadian for five of us to go the next morning. The party would consist of my mother, father, sister, son, and me. This would certainly be our answer.


Day 3

Our guide, Gary, met us at the dock at 6:00 A.M. His boat was a 23' Crusader, well built for fishing and rough water. The seating area was fully covered to protect us from the elements with a wide open stern for fighting large fish. Gary baited our excitement on the ride out to the lighthouse with stories of 20 and 30 pounders he had landed over the years. We arrived at the fishing hole around 6:30 A.M. and made quick work in getting our rigs down. Gary's boat was fully equipped with electric down riggers calibrated for precise trolling in deep water. In our first troll we hooked a small King weighing a mere 3 pounds - more like a Prince. The trolling speed of the boat made the fight trivial, but at least we were heading in the right direction. However, the minimum size allowable is approximately 8 pounds. Gary, confident we would catch a boat load this day, released the fish immediately without even a single picture snapped. After five hours of trolling each of us managed to land similar sized juveniles. We headed for shore once again empty handed and dejected.

Three hours later I was up again and determined not to be beaten. I quickly headed for the tackle shop to mirror the outfits our charter captain had used. If I couldn't catch a legal salmon at least I would catch a few small ones on my terms. I convinced my father to give it another try and head out again that evening.

We were skunked again. Dejected, my father lost all respect for this famed region and harkened to the catfish back in Kansas as being a more cooperative and satisfying foe.

Day 4

I awoke at 5:30 A.M. to find, to my surprise, my mother ready and eager to set out. Dad was under the weather, or at least so disgusted with the fishing that he was sick to his stomach. Nevertheless, I was glad to have a willing partner. Day four proved to be the most challenging. A strong outgoing tide made currents swift and trolling nearly impossible. To compound matters waves two to three feet in size constantly swept across our bow making straight trolls extremely difficult. Twice the down rigger line crossed over the prop guard giving us a scare while the third time proved to be nearly disastrous. The wire wrapped completely around the propeller. Fighting the waves I balanced myself off the stern trying to carefully untangle the down rigger line without falling head first into the frigid Pacific waters. Too often such an event results in an embarrassing tow home and a $200.00 marina repair bill. However, God was looking out for us this day as I avoided a chilly swim, untangled the down rigger line, and managed several more hours of fishing. By 11:00 A.M. we were heading in - empty handed once again.

We decided to abandon thoughts of fishing for a while and spend the afternoon taking in some local culture with the entire family. I had convinced myself not to let the poor fishing ruin my trip and looked forward to the afternoon. To our luck the town was having their annual Lumberjack Days which consisted of everything from axe throwing to log rolling to buck sawing events. It was truly a fascinating competition to watch. Later that afternoon we took to the mountains to visit the waterfalls in the mountains of Strathcoma National Park just east of Campbell River. The diversion was exactly what we needed.

The Last Night

The evening of Day 4 hadn't improved my father's mood on fishing so I inquired to my mother's desire to make one last attempt. I told her we would escape the hoards of fishermen to the south and head north towards Brown's Bay. If we did fish we would concentrate on Ling Cod and "just have fun." The sites to the north included the famous Painter's Lodge where Tom Hanks, John Travolta, and Merv Griffin had stayed the week before. North of Campbell River the passage narrows with incredible cliffs lining the water's edge. As we passed Painter's Lodge we approached a small peninsula jutting out into the passage. The water on the north side was known as Duncan's Cove just south of the Campbell River paper mill. As we approached the peninsula I thought to myself, "if I were a salmon this is where I'd be."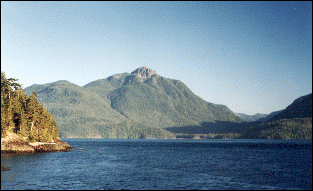 We each again rigged up with Crippled Herring lures, just as we had started our trip, and began a drift northward with the outgoing tide. After twenty minutes we had landed a half dozen Rockfish and two Ling Cod. However, even by bottom fish standards they were small so I prompted my mom to pull up. However, she was in the middle of untangling a "bird's nest" in her reel and asked for five more minutes. I rolled my eyes and reluctantly dropped my line down one more time.
The Fish
Fifty feet later the lure made a sharp jolt. For a split second I thought the lure hit bottom and snagged. The boat immediately swung around in the direction of my line. It was then that I realized it was a fish. I rared back to set the hook and felt an incredible sense of energy at the other end. My reel screamed as the fish made a vicious run south. Then, the fish made a 90 degree turn and headed for deep water. I held on as the fish ran off 250 yards of line. I yelled to my mom that we had something big on the line - "it could be 20 pounds!" The fish then stopped and began a furious thrashing. Every swing of his head could be felt in my arms. The fish, approximately 100 feet deep, then made a mad dash towards me. Too often a salmon will charge the fisherman giving slack to the line and affording an opportunity to escape by taking pressure off the hook. I reeled as fast as I could with little or no tension on the line for 15 seconds. The fish circled the boat and made another mad run east. This time he was heading for the surface at the same time. I could see the line rising from a near vertical descent. My fear was he would breach the surface leaving me with little or no control. A fish out of water leaves a fisherman helpless until he can bring tension back to the line. He didn't breach though. Instead, the fish's tail made a wide sweep above the water giving us our first glimpse of his size. Even from 100 yards away I knew I was dealing with a Tyee salmon. I yelled, "It's got to be 30 pounds! Did you see the size of his tail?" The fish made another deep dive and now was just below our boat circling some 70 feet down. 15 minutes had passed since I first set the hook and I now felt I might be starting to gain some control. I started to slowly reel him in. The fish circled the boat as he slowly began to rise.
Several minutes later I knew we were about to get our first real glimpse of this incredible fish. Thirty feet down in crystal clear water a dark and mysterious silhouette passed underneath us. "Oh My God" were my first words upon seeing him. A shuttering "Ohhhhhhh" whispered from mom. This was no 30 pound salmon. In fact this one might tip the scales at an astonishing 50. I then looked at my mom and said very seriously, "you know - you're going to have to net this fish." I don't think I've ever seen my mother tremble. She finally found herself in an unenviable position. I had the fish of a lifetime on the line and the only way we could get this fish in the boat was to operate as a team affording no mistakes. I began barking orders to her to clear the starboard side of the boat. We needed everything moved so we could work the landing. Coolers, buckets, tackle boxes, fishing poles, clothes, oars, ropes, and net all had to be moved out of the way.
I then began to give her some basic instructions on how we were going to net him. It was then that I realized the net we had was far too small. In fact, it was only 18" deep and hardly strong enough for a fish over four feet long. I knew we would need some luck. If mom could get the net under his head I would need to grab his tail with my right hand and hope we could both lift him over the side of the boat.
The fish circled the boat for 10 more minutes before we finally decided it was time. I maneuvered the fish toward mom and it all came together. The net went under the head and I reached for the tail. But when I caught the tail I found the base nearly 8 inches wide preventing me from grasping the fish. All I could do was lift with an open palm. The two of us lifted and as the tail raised above the head the full weight of the fish hit the bottom of the net. The net exploded sending the fish back into the water with the net hooped around the rod tip. For a split second I thought the fish had escaped. The fish, spooked, made a mad dash reeling out 100 yards of line. Meanwhile my mom held the net in her hands looking as if she had just netted my fishing rod. I frantically instructed her to find a pair of scissors to cut the rod free of the net. A knife would have been too risky while a scissors could cut the net away without risking a tragic slice of the fishing line. There were no scissors to be found. In the panic the entire boat was in disarray and nothing was where it should be.
Feeling defeated and sure it was only a matter of time before the fish broke the line or threw the hook I decided to do the next best thing. I told mom to find a camera so we could at least document this fish in some way. Otherwise no one would ever believe us. She found the camera and quickly started searching for the fish. "I can't get the camera to work" she yelled. Being an instamatic camera I screamed for her to "just point and shoot." My mother is generally an extremely calm person in tense situations but at this moment she was out of her element. She then exclaimed, "I took one!". "Did you get the fish in the picture," I said. "No," she said panicking. "That's not a good sign," I said. The camera would not work again. What next I wondered.
How do I get this fish in the boat, I wondered? It was an extremely helpless feeling. I then instructed my mom to begin waving down passing boats. We needed a bigger net and surely a passing charter boat would come to our rescue. Unfortunately, we had traveled so far north of the normal fishing channel that the nearest boats were over half a mile away. The best we could manage was a friendly hello wave in return. My mind was racing. What to do? Suddenly, I remembered a "Fish Noose" sold in fishing stores used to disable a fish by holding the tail. I said, "grab some 40 pound test line and make a slip knot and we¹ll lasso this fish." Mom scrambled to the tackle box and located the spool of line. She began a frantic attempt to tie what would have been the simplest of slip knots, if not for her trembling hands. All the while I was busy trying to reel the fish back in after his run from the net. The fish was now next to the boat again. My mom stood up and said "it's no use."
I looked at the water and wondered how I would fare if I jumped in on top of the fish and wrestled him into the boat. The fish made a slow pass by the boat and I calmly reached my hand into the fish's right gill only to feel a line of razor sharp teeth-like serrations inside. I decided against an attempt to lift the fish into the boat with my bare hand fearing a thrashing episode might erupt leaving my fingers mangled. I was now fresh out of ideas so I just stood there and watched the salmon make trip after trip around the perimeter of the boat.
And then it hit me. "The Gloves!" My wife, Beth, had given me a pair of blue fishing gloves for Christmas nine months earlier. As I think back I held the gloves up next to the Christmas tree and thought "what would I ever do with these things?" They were made of blue neopreme with sand grains embedded in the palm and unless I was taking employment on a fish cleaning ship I doubted I would ever find use for them. A few weeks later I threw them into the bottom of a pack mounted to my boat's center console along with a pack of flares I also thought I would never use. I yelled to my mom to find the gloves.
She found them. The next moment was like a scene from M.A.S.H. I held out my hands one by one and with the precision of a surgical nurse she slipped the gloves over my hands. I could now grab this fish with no fear.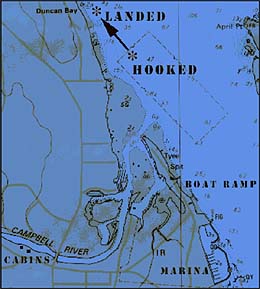 The fish was making his usual deliberate passes around the boat just below the surface. I knew I would have to turn the rod and reel over to my mom - it was an act of faith many people wouldn't envy. If anyone was going to be responsible for this fish it should be me. Putting her on the controlling end of this fish could be a simple detail or disastrous. I likened it to sending a freshman into the championship game with only five seconds left and asking him to take the final shot. Dealing with a failed effort would be hard to live with. But, I knew I needed both hands on this fish in order to lift him. At this stage my arms were like rubber from fighting the fish for nearly 40 minutes.
I reduced the drag so the fish could make another run if I spooked him when I made my grab. I handed my mom the pole and instructed her to guide the fish over toward my side of the boat. The fish cooperated and I thrust my arms into the water and landed the largest fish of my life. When the fish hit the bottom of the boat a feeling like none other hit us.
We had done it! We had caught a salmon of size few in the world have ever seen. The fact that we landed this fish without a net is without question an absolute miracle. How did we keep him on the line for nearly 40 minutes? How did we turn him when he ran out some 250 yards of line? But there he was.
The fish was one of the largest King Salmon in the world. His tail spread 17" wide from tip to tip. His body was over 9" thick at the middle and measured 13" high. It was my first legal King and possibly my last. As I gazed at him I didn't know how much he weighed but I once caught a 20 pound striped bass that looked like a goldfish compared to this monster.
The rush of adrenaline was intense. My mom and I were screaming at the top of our lungs with jubilation. We were like two football players who just pulled off the upset of the century. High fives! Yes, high fives! I normally don¹t jump in a 14' boat but we were jumping this day. "Look at em! Look at em! He's huge! He's got to be 50 pounds," I said. We were like two giddy teenagers. But, the best thing of all is that it was a defining moment for my mom and I. Never had we shared such an emotional event together. My mother would later say it was the most exciting thing she had ever experienced. We were in a state of euphoria. We now needed to share this with everyone else. We fired the motor up and headed for home.
We were four miles from the marina and by my estimates about 15 minutes away. Half way home we converged with a boat that appeared to be our charter from two days earlier. We frantically waved him down only to find out we were mistaken. Still, he asked, "what's with all the commotion?" I said, "We just caught a 50 pounder!". As our boat slowly came together he said, "Oh, they look a lot bigger than they really are." I said, "No, we landed this fish with our bare hands, and he's 50 pounds." When his eyes finally got a glimpse of the fish he said, "Oh my God! I haven't seen a fish that big in six years." I asked him where I should go to get him weighed. He said he was heading home also and that we should follow him in and he'd help us out.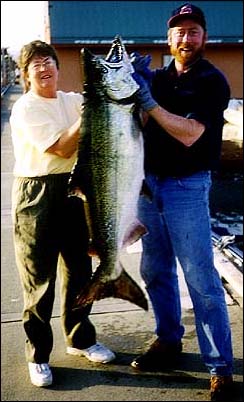 Little did we know at the time but the charter captain was radioing ahead to the marina. Marina's thrive off of marketing opportunities such as this one and given the past few weeks they needed some good news. Receiving the call that a 50 pound salmon was on its way prompted a flurry of activity at dockside. Rounding the rocks at the jetty we headed to the charter docks to find a crowd awaiting our arrival. It was like a hero's welcome. Video cameras were rolling, cameras were clicking, and people were clammering to get a closer look. A group of ten Japanese fishermen were also on hand which added to the frenzy as each wanted to get in the picture - most of them barely taller than the fish itself. Even a reporter from the Vancouver newspaper was on hand. The captain grabbed his hand held scales and jumped into our boat to get a reading - "47 pounds!" We would later find that his scale was inaccurate at such weights and the fish actually weighed in at a whopping 55 pounds - one of the largest salmon on record.
I next headed for the phone to call a local taxidermist to inquire about my options. Meanwhile, mom jumped in the car and headed for the cabins to get the rest of the family.
I was striking out with each taxidermist I called. The first two complained that they had only mounted King's in the 30-40 pound range. The problem with my fish is they couldn't work on it for a few days meaning they needed to freeze it flat and they didn't have a freezer that large. I thought, how hard could it be to get a salmon mounted in the "Salmon Capital of the World?" Well, for this fish, it was impossible.
While I furiously made phone call after phone call mom was racing for the cabins. When she arrived she jumped out of the car only to find no one home. They must be down by the river, she thought. She ran 75 yards towards the river before she saw them near the shore. When they looked up they saw her frantically waving her arms. Their first thought was something bad had happened - the boat sunk, the car caught on fire again or worse. When they finally reached her she was hysterical. "Come quick, you won't believe it, you've got to see this," she said. Beth said, "what is it, what's happened?" And then like a stuttering child she screamed out F-F-F-F-F-FISH!!! The race to the dock was on.
It was a proud moment for everyone. Dad, even after missing out on the catch reveled in the event. Most of all he was excited for mom. Rarely in her life has she had the opportunity to experience anything so grand. Mom and I, glowing for the cameras, hoisted the fish for all to see. After the picture taking, and discussion of the taxidermy problem ended, we decided to put our hopes on the pictures turning out and decided to have the fish smoked. After all, 30 pounds of smoked salmon sounded pretty appealing. The rest is history. A great picture, a lot of great smoked salmon to share with family and friends, and a memory of my mom and I landing the biggest fish of our lives.
PRICELESS!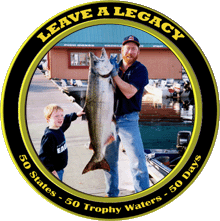 ---

Last Updated November 12, 2008 - Story Copyright 1998